Customizable "Business Showcase" Page!
When you advertise with us, you get the most innovative & interactive advertising in town! Your "Business Showcase" page is a full web page containing your current discounts, but also so much more! Fully customizable using our simple WYSIWYG (What You See Is What You Get) Editor, all aspects of your "Business Showcase" can be updated instantly, right through your web browser. Even if you aren't very "Computer Savvy", you will find it is very easy, and our tutorials are designed to make it a breeze.
Your "Business Showcase" Includes:
- Business Name, Address, Phone Number, E-mail Address
- Direct link to your website (if you have one)
- Your businesses logo
- Interactive Google map of your business
- Up to 3 Local Discount Card / Coupon Offers
- New! Mailing List (see below) - Stay in contact with your customers...visitors can sign up for your e-mail list so
that you can contact them about your discounts, special sales & events, announcements, & more!
- Customizable Business Description (See below)
Get Creative! Our WYSIWYG Editor (What you see is what you get) allows you to share any information you would like with our website visitors. Tell them about your business, post your hours of operation, add pictures of your business & products, even videos! Restaurants can even post their menus...there's no limitations! The WYSIWYG Editor is easy to use, with a simple Microsoft Word-like interface....and it allows you to stay current with your customers and prospective customers as well.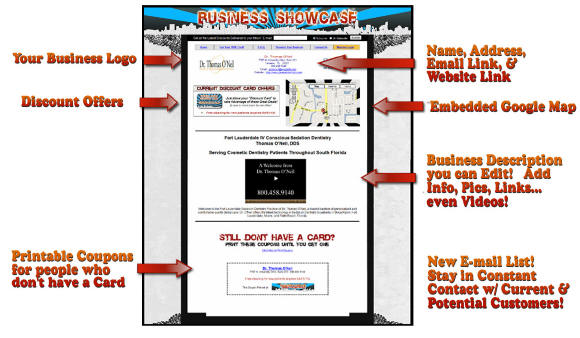 Here is what your business showcase will look like....Click the image above to view a larger version